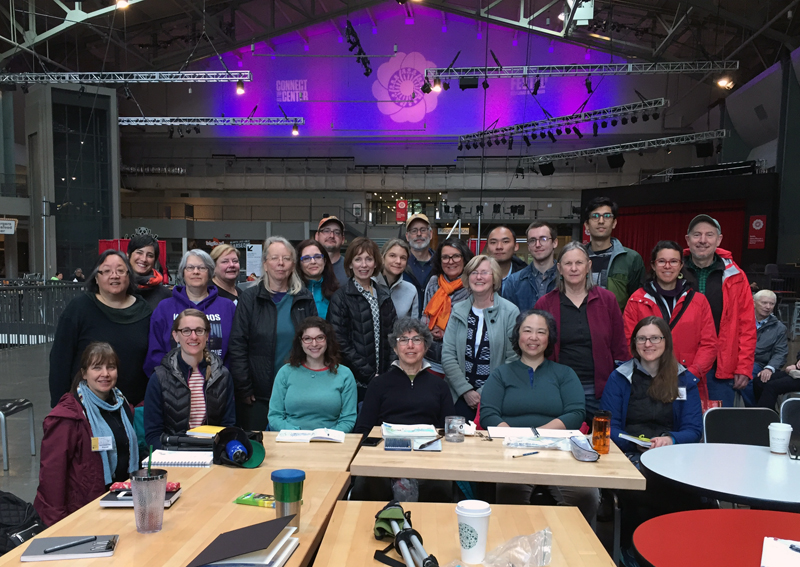 Thanks to all the participants in the Line to Color workshop Gail Wong and I led this past weekend in the Fremont neighborhood and Gasworks Park in Seattle. We appreciated the energy and willingness of everyone to endure the less than ideal weather conditions to draw and paint this weekend. When sketching while traveling or simply out and about, we often cannot control how hot, cold, or wet it is. We can only do the best we can.
After drawing on location for so long, I sometimes forget what it is like to be a beginner. More than a few participants mentioned how mentally tiring it was to draw all day, which, in thinking about it, shouldn't have surprised me. Drawing, and the seeing it requires, does take effort, especially for beginners struggling to resolve the difference between what we know about something and how it might appear to the eye.
During these workshops, Gail and I rarely have the time to do any drawings of our own except for the quick demos we may do in our sketchbooks as we work with each of the participants one on one. Yesterday, to wrap up the workshop, we gathered at Seattle Center for a final session and I finally had the time to do a couple of sketches. The first is the view looking out from under the canopy at the base of the Space Needle, and the second is a contour line drawing of Space Bloom, an installation that combines art, science, and technology to enable the floral sculptures to sing and dance throughout the year.